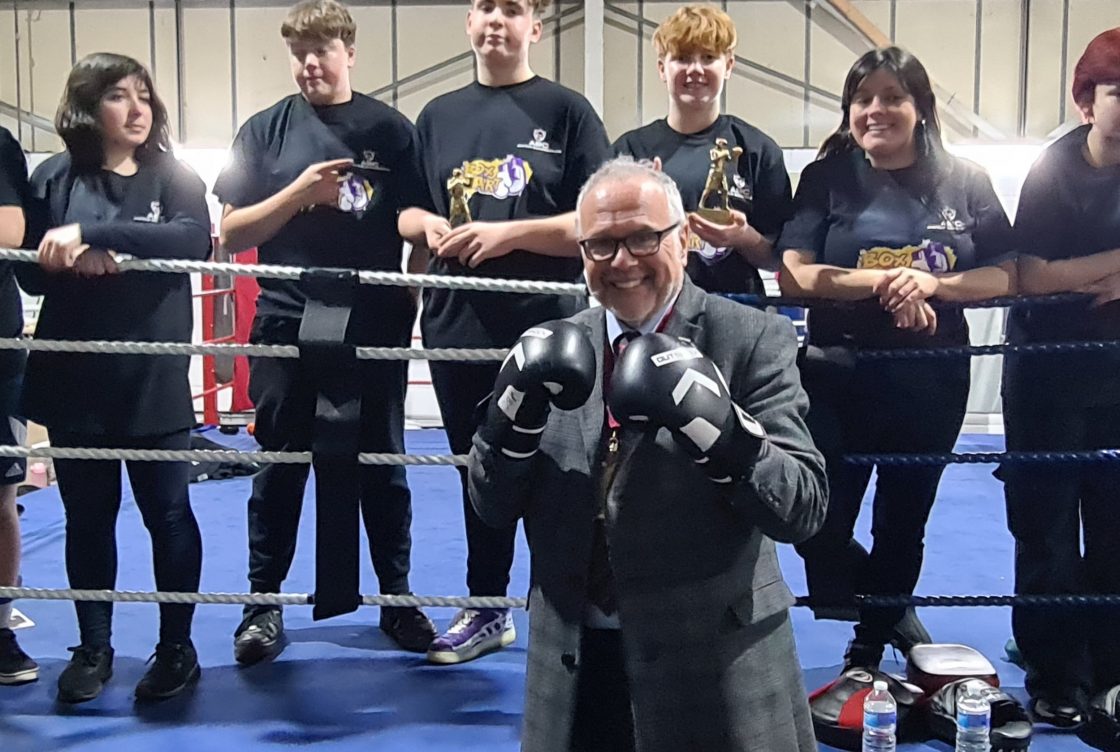 The Box Smart 'On the Ropes' project is designed to give young people the opportunity to learn the techniques and disciplines of boxing, whilst covering topics around risk taking behaviours, ASB and consequences, substance misuse and how to stay safe in the community. For local children aged 13 – 15, those taking part not only take part in sporting sessions to increase fitness, but they can also meet new people, develop skills in teamwork, motivation, and collaboration. The project is a collaboration between Active Essex Foundation, Colchester Borough Homes, Safer Colchester Partnerships, Alresford Boxing Club, and the North East Essex Youth service.
Active Essex Foundation's Sports and Youth Crime Prevention project lead, Suzanne Page who coordinated the project, said: "It's been great to be able to work in collaboration with the ABC Boxing club and North-Essex Youth Service to deliver a targeted youth intervention course to young people. Sometimes it can be hard to keep young people's interest when we are trying to deliver key messages around crime reduction and keeping safe in their community, but sport bridges that gap. Providing BoxSmart sessions provides the opportunity for us to speak to young people in a language they understand and engage them in pro-social activity, guidance, and education."
The engagement by the young people has been fantastic and we can already see encouraging outcomes with continued engagement and positive behavioural changes and the free membership offered to all will ensure post course they can still access support and learning. Further BoxSmart 'On the Ropes' courses are planned for 2023 across North-East Essex.
Former Leisure World employee and current member, Lewis Richardson, held a one-off boxing masterclass as part of the Active Essex Foundation BoxSmart initiative. Lewis, who won a bronze medal in the men's middleweight boxing at this year's Commonwealth Games, worked at Leisure World, and is still a member, regularly using the facilities on site.
Lewis shared, "As someone who grew up in Colchester it's amazing to be able to take part in a project like this. Focusing on sport can have such a positive effect on young people, as it has me, and I'm delighted to be able to share my skills and experience to hopefully have a positive influence on others."
Cllr Adam Fox, Deputy Leader of the Council, said "Having three successful athletes in this year's Commonwealth Games that are local and using our facilities at Leisure World and Colchester Sports Park is just fantastic. What's even better is being able to work with these people to inspire young people to get active and use sport to focus on both their physical and mental health, which is so very important."
Philip Sullivan, Colchester Borough Homes Chief Executive, said "It's fantastic to see the Box Smart participants getting stuck into this fantastic project, and it's a privilege to have Lewis join us and offer his support. "Projects such as this make a real positive impact on both local communities and individuals and help make our community plan work."